On September 20, 2021, representatives of the Center for Cultural & Arts Initiatives in the person of artistic director Andriy Sendetskyy, teachers Vira Halayko, Oleh Bolyuk, and Serhiy Havrylovych visited the Municipal Institution of Lviv Regional Council "Pidhirtsi Special School of I-III Degrees" for a master class fluid art technique. The meeting is dedicated to creating artistic works by the center's pupils for participation in the All-Ukrainian project for young artists "PROSTO NEBYLYTSI" 2021.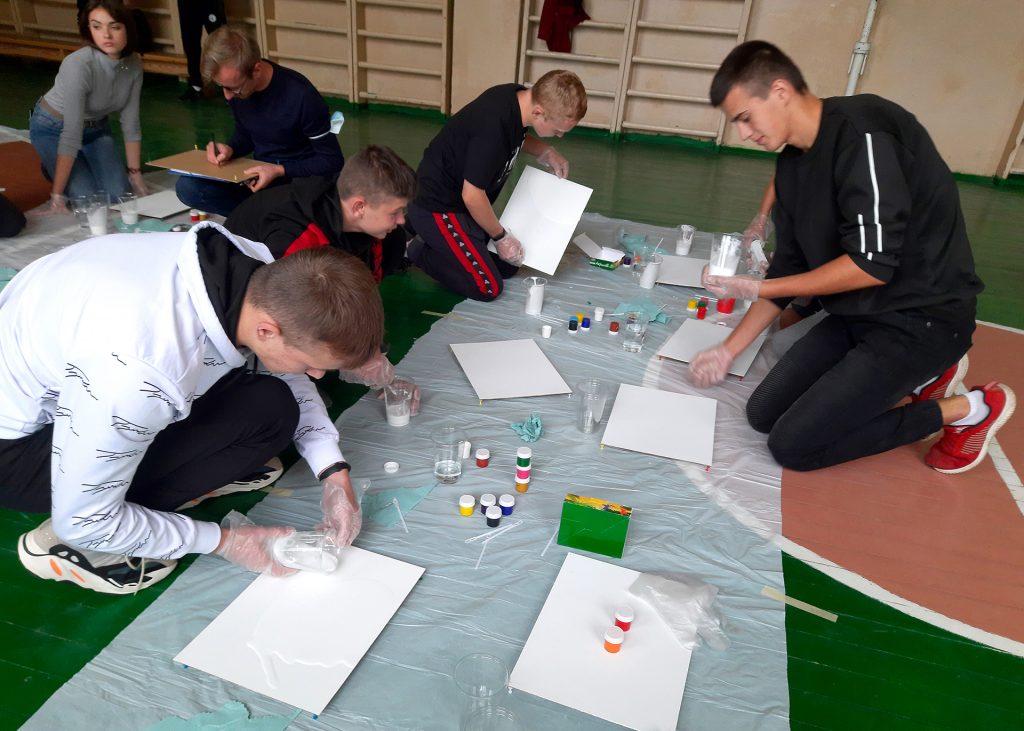 Participants of the boarding school got acquainted with the demonstration of this technique. Andriy Sendetskyy told about the step-by-step steps of creating unique paintings. "Fluid art" fascinates with its unpredictability because the flow of colors chosen for the picture generates an allusion to the eruption of volcanic magma, which in relief finds ways for hot lava flows. Fluid art is an impressive action. It can be called a dance of colors.
Manipulations with silicone spray and dehumidifier create an additional effect. Instead of a brush, the artist works with fire. His author's canvas acquires strange cosmic landscapes.
The young artists became so interested in painting that they ignored the time allotted for the master class and continued to work on their paintings. As a result of the meeting, almost twenty works were created, the best of which will take part in the presentation of the eleventh consecutive culmination of the All-Ukrainian project for young artists "PROSTO NEBYLYTSI".