Today, October 2, 2021, the project "Art Palette" once again visited a specialized boarding school. Velykyi Lyubyn, Lviv district. The Center for Cultural & Arts Initiatives Havrylovych Serhiy, Galaiko Vira, Sendetskyy Andriy, Kravets Victoria, Lototska Marta came to the institution to hold a master class on painting in the original technique of Fluid art. During their visit, representatives of the public association acquainted the center's residents with this new equipment. Therefore, how to create a work of art without a brush and pencil intervention can already be asked from knowledgeable students of Velykolyubynska specialized boarding school: they will be happy to share their knowledge.
The children greeted the guests with curiosity in their eyes and accompanied them with radiant and inspired smiles, hoping for the next creative meetings. Each of the master class participants was able to use in their work of art well-known techniques, as well as seemingly incompatible components, tools, and techniques. Some chose the most comfortable art equipment for their work, some liked the still unknown technique of Fluid art, other artists applied paints with spatulas, and some enjoyed stencil painting. Some bold experimenters wanted to combine everything in one. Each of the participants created their own unique "masterpiece" while well contaminated with paints.
But most importantly, each young artist had enough artistic means to engage in symbolic self-expression. The final code of the meeting was sweets that the guests brought with them for a feast for the center's residents. Everyone was full of positive emotions!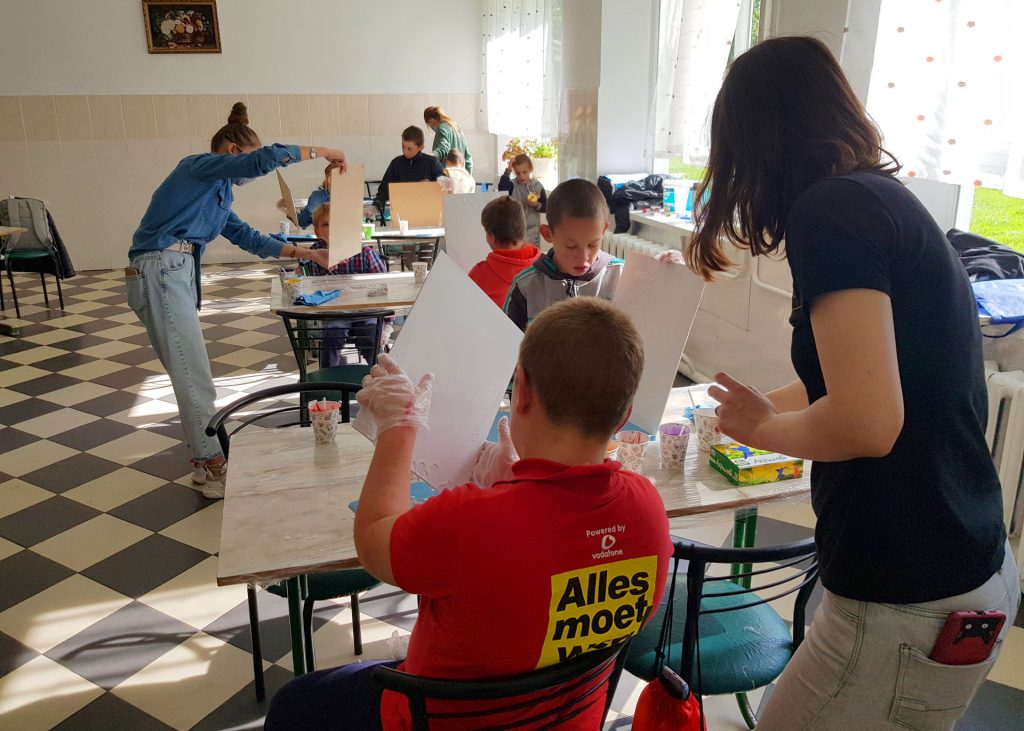 Traditionally, the works of the participants of the Art Palette project will be presented at the exhibition as part of the presentation of the All-Ukrainian project for young artists "PROTO NEBYLYTSI" 2021. We invite everyone to follow the announcements of the Center for Cultural and Artistic Initiatives. We are accustomed to the exhibition space of the exhibition partner of Project 2021 in Lviv.